Бюллетень Международной федерации по старению: People in Focus
Увечичить/уменьшить шрифт [ A+ ] /[ A- ]
People in Focus: An Interview with Mr Ian Yates AM

 

As Chief Executive, Mr Ian Yates has led COTA Australia to new heights with the recent passing of Living Longer Living Better aged care reforms through the Australian Parliament, which received Royal Assent 28 June, 2013. For the CEO of one of the leading community voices in Australia, this was one of the most important collective achievements seen during his career and a critical step in supporting older people to live life with grace, dignity and quality.

 

«Living Longer Living Better» began implementation on 1 July 2013 — a package that maps out a ten year plan to reshape age care and build a better, fairer and more nationally consistent aged care system in Australia.

 

COTA Australia was a driving force behind the legislative changes, uniting key stakeholders through building support for the reforms among the then 28 organizations of the National Aged Care Alliance and pressuring government to make essential changes to the age care system to improve the quality of care Australians receive as they age.  The Alliance now comprises 42 members and includes a range of consumer organisations, unions, professional associations and aged care providers dedicated to the ageing population. 

 

How does success happen with such a complex and highly charged field of dialogue across all sectors and many disciplines?  «It is essential to build communities of interest,» says Mr Yates «and the sector has to be aligned with an end goal.» More importantly Ian stresses the importance of looking beyond the sector and building relationships and coalitions with external stakeholders.  «Be consistent and patient … and don't give up.»

 

The CEO of COTA Australia has seen his fair share of challenges in his 24 year career at COTA.  «It is a real challenge and also highly rewarding to lead a federated organization with such diverse regional differences,» says Mr Yates.  «It is difficult to nurture and thereby create a consensus of thought.»  The Living Longer Living Better reforms demonstrate that under strong leadership it is possible to overcome what was initially considered insurmountable challenges and unite member organizations to great effect.  

 

Mr Yates is convinced there is still more to be done and COTA Australia will continue to advocate for further reforms while ensuring current reforms are implemented in a way that will achieve the best outcomes for older Australians.  «There is currently an imbalance of power» he said describing the relationship between care providers and those receiving care.  COTA wants to see care recipients have ownership over the services they receive and who provides them.   Under his leadership and commitment of decades COTA Australia has grown to one of the most influential advocacy organizations for older people in Australia. 

Mr Ian Yates holds a number of positions within COTA in addition to CEO of COTA Australia. He is a Director of both COTA Member Services and COTA Insurance Services, and serves as COTA representative on a wide variety of Federal and State Government bodies.  In addition to these roles he is also Deputy Chancellor of Flinders University, a member of the Australian Institute of Company Directors and a Board member on the Aged Rights Advocacy Service.  He was recognized for his meritorious service and awarded Membership in the Order of Australia (AM) in 2005. 

IFA Blog: Digital Intuition

With financial elder abuse constituting a growing problem across the globe, it is important to engage in a discussion about online banking and how this could curb or aggravate the problem. Encouraging older people to use online banking could potentially decrease instances of financial exploitation because it would enhance their financial autonomy. Those who have mobility restrictions would be able to perform banking tasks and monitor their account activity from home. As such, it would seem worthwhile to invest into the development of an age-friendly online banking platform. This opinion, however, is not shared by all. There is a commonly held misconception amongst many who believe that older people are inherently averse to online technology. This is a meritless argument, however, as it does not take into account the fact that this is rapidly changing.  Moreover, it places the onus of learning on older people; as if there is nothing we can be doing to help make this transition easier. 

Visit the

blog

to learn more about emerging issues in the field of ageing.  Share your thoughts and comments!

 

 International Istanbul Initiative on Ageing 

 

4-6 October, 2013

 

 

 

For more information on plenary speakers and workshops please visit the IIIA website.

 

Sheridan Elder Research Centre 10th Anniversary Celebration Event

Sheridan Elder Research Centre is celebrating their 10th Anniversary on 6 September, 2013 with a complimentary presentation by Dr. Alexandre Kalache, titled «The Longevity Revolution-Nothing will ever look the same again!»  Dr. Kalache is a world-renowned expert, advocate and activist on global ageing issues.  

 

Following the presentation SERC will be showcasing the work they have done over the past 10 years and highlighting current and past partners with a series of interactive display tables and demonstrations.  The event takes place at Sheridan College in Oakville, Ontario at 7:00pm.  Please

RSVP

by 30 August.

 

More details are available

here

. 

COTA Victorian State Conference

COTA Victoria hosted the COTA Victorian State Conference on June 5 in Melbourne.  The theme of the conference was the rights of older people and ageing well.  Dr. Jane Barratt, Secretary General of the International Federation on Ageing gave the keynote address on the progress towards a UN Convention on the Rights of Older People and the implications of an ageing world population.  Nearly 200 people attended the conference and it was very well received by all.  The keynote address with its international perspective was much appreciated and people praised the workshops and the diversity of topics discussed.  

 

The full report is available here.  

IFA Patron Members  

   

 

The IFA is on Facebook and Twitter! Join our Online Community Now !

 
Age-Platform Europe on the Fourth Session of the Open-ended Working Group on Ageing
While the existing human rights framework applies to everyone without age limits, older persons encounter significant barriers and protection gaps in the realisation of their human rights. This is one of the conclusions of the fourth session of the OEWG, which took place this week at the UN headquarters in New York. This UN forum was set up to strengthen the protection of the human rights of older persons by identifying possible gaps and how best to address them, including by considering the feasibility of further instruments and measures. The fourth session took place with a renewed mandate of the OEWG as approved by a UN General Assembly resolution, which asked the group to explore the main elements of an international instrument to protect the human rights of older people.
Member States have put forward a spectrum of views to address the existing deficit, ranging from the need for a new Convention on the rights of older persons as the preferred option of the Latin-American and Caribbean countries to the refusal to engage in any normative process by the EU, Switzerland, US and Canada. The proposal for a new legal instrument on the rights of older persons was also heavily supported by African states, which drafted an African Common Position «to advocate for, and support the elaboration of a UN Convention on the Human Rights of Older Persons». Argentina made a proposal for the establishment of a group of member states, which would take joint actions as a 'Group of Friends of Older Persons'. For the first time, this session included an interactive dialogue with civil society, while many Member States have acknowledged in their statements the invaluable contributions of NGOs' in this debate.
AGE Platform Europe (AGE) welcomes the active participation of UN delegations during the 4 days of the OEWG, which confirmed that ageing is not only a social policy but also a human rights issue. At the same time we regret that the EU's position in the OEWG is not adequately informed by the views of senior citizens. So far, there is no transparency about how this position is shaped and there are no instances for older persons to be consulted. AGE has brought this to the attention of Vice-President Reding and Mr. Lambrinidis, in a letter asking for the establishment of a multi-stakeholder dialogue group on the rights of older persons.
«As a self-advocacy organisation and speaking in favour of further development of participatory democracy, we firmly believe that older persons should have a strong voice in all processes that affect them. We therefore support the concluding remarks of the Chair of the OEWG, which made reference to AGE's proposal to include civil society and older persons themselves in national and regional delegations. The involvement of civil society will give a genuine added value to the discussions and will legitimise the whole process»,said Mr. Marjan Sedmak,President. 
For AGE a UN legal instrument such as a Convention on the Rights of Older Persons is needed to fully understand how existing human rights apply to older people and can be effectively enforced as part of the UN system. Such an instrument would not only codify the rights of older persons in one single document — which is indeed an important tool to increase visibility of older people, guide policies and advocacy and raise public awareness — but it would also specify State obligations, improve accountability and broaden overall understanding of the rights of older persons as well as create societies and environments for all ages, where older people are able to contribute, prosper and enjoy their rights. Human rights violations cannot be adequately addressed as long as the rights of older persons remain optional.
IFA 12th Global Conference on Ageing
Health, Security and Community
10-13 June, 2014 in Hyderabad, India
CALLING FOR ABSTRACTS!  
Submit soon to reserve your place in the program!
More information is available here. 
Sex in Geriatrics Sets Hebrew Home Apart in Elderly Care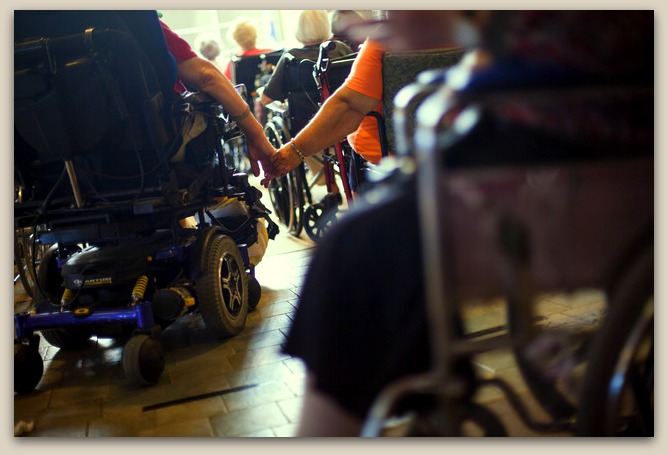 The Hebrew Home in Riverdale, New York has broken with industry practice and encouraged sex and intimacy among its elderly residents, including those with Alzheimer's and other forms of dementia. The home has a four-page policy stating residents «have the right to seek out and engage in sexual expression» including «words, gestures, movements or activities which appear motivated by the desire for sexual gratification.» 
Staff members are taught to monitor people known to be in intimate relationships for signs that either party is uncomfortable including disruptions in eating, sleeping or bathroom patterns.  When a relationship seems unwanted, the home can take steps to help end it, from counseling an overly aggressive resident to moving one to a different floor. «This isn't meant to be a hospital, it's meant to be a home,» said Robin Dessel, 56, the Hebrew Home's sexual rights educator. «A resident's voice is foremost; it trumps everything.»  Many larger nursing homes in the United States do not have specific sexual-expression policies; instead they opt to address the issue on a person-by-person basis with training about sexual situations built into broader programs.
Read the full article here.
FADOQ'S New Social Contract In Favour Of Quebec's Seniors
FADOQ sees in aging an opportunity for Quebec's society to benefit from knowledge, experience and wisdom from our elders.  We need to consider guaranteeing their quality of life as an investment in the present and future generations.
Four basic principles for an adequate quality of life:
Health: Seniors have specific needs pertaining to ageing and its consequences.  Ageing is not a disease it's a natural milestone that no one can escape.  Seniors must have access to a range of treatments, ranging from specialized to general, short or long term, prioritizing home care and resources for caregivers.
Wellbeing: Let's make sure that, as a wealthy and resourceful society, ageing does not become a synonym of impoverishment, homelessness, malnutrition, isolation or loneliness. Guaranteeing that all persons over 50 years old will find adequate housing, will feed properly, dress properly, have fun and be entertained enough will certainly have positive repercussions for all of society. 
Security: At this venerable age where strength and confidence has too often left us, vulnerability opens the door to all kinds of mistreatments, abuse, intimidation or fraud. Quebec's society, which seeks equality and solidarity, has the duty to compensate for the inability of some seniors to ensure their safety.
Belonging: Seniors invested a lot of time to enhance experience or promote knowledge. Collectively let us give ourselves the luxury to listen to our elders, asking them to comment on the issues of the day, giving them a more active role, including them in the decision process. Let's guarantee them an active role in society and the right to be full-fledged citizens.
For a new social contract
Along with many important partners from different sectors, FADOQ unveiled a Social Contract for the quality of life of Quebec's seniors and asks all of civil society organizations to sign this social contract to preserve the quality of life for seniors, present and future.  Go to www.fadoq.ca to read about it or read the full report in English or French!
Voice of Senior Citizens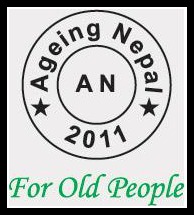 Ageing Nepal has released a new issue of Voice of Senior Citizens.  This month's edition focuses on social security, health, rights, poverty, elders in development and elder abuse.  There are also feature articles from China, India, Pakistan and Sri Lanka highlighting recent news on older people in these countries. 
Ageing Nepal is a not-for-profit organization committed to establishing a sustainable system of social protection to guard against poverty in old age by empowering elders, promoting age-friendly environments and taking proactive measures against abuse and exploitation of older people.
Read the Voice of Senior Citizens here.  
Finding the Right Fit: An Age-Friendly Community Planning Guide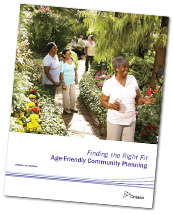 The Honourable Mario Sergio, Minister Responsible for Seniors Affairs has announced the release of Finding the Right Fit: An Age-Friendly Community Planning Guide at the annual conference of the Association of Municipalities of Ontario that took place on 20 August, 2013 in Ottawa.  The Age-Friendly Planning Guide provides advice to municipalities on the development, implementation and evaluation of plans for seniors-friendly communities which are socially and physically accessible and inclusive.

Read the Planning Guide here.
Club Piratininga in Sao Paulo

Club Piratininga is a point of meeting and entertainment in Paulistanos, Brazil. Every Monday the Club promotes ballroom dancing where older people experience excellent national or international live music by orchestras or musical groups.  Well dressed, polite and nice people enjoy listening to music and showcasing the art of dancing.  It is a safe and good place to stay from 4pm to midnight every Monday.  Bookings in advance by phone at (55 11-) 45 08 88 69 or 45 08 88 72 or 45 08 88 76 or 38 25 12 11. For more information email diretoria@clubepiratininga.com.br.
Premier Homecare Services Opens Two New Locations in Toronto East and London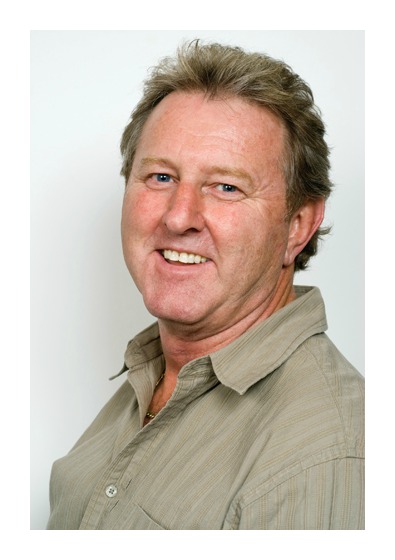 David Watson, Founder and President 
With the growth of an aging population that wants to live at home, business opportunities continue to boom in the homecare sector. Premier Homecare Services has opened two new locations this month to serve Toronto East and London, Ontario.
Premier Homecare Services, which provides personalized care to seniors who face challenges with the activities of daily living, has achieved 30 per cent growth over the last year. In addition to Toronto East and London, a new location opened in Durham West in December. This brings the total number of Premier Homecare locations to thirteen.
«There is long-term value in a franchised homecare business,» says David Watson, founder and President of Premier Homecare Services. «Our franchisees are building a quality asset that can be sold in the future. With the aging population and limited government resources, the demand for homecare will continue to increase.»
Action on Ageing-Ghana Call for Support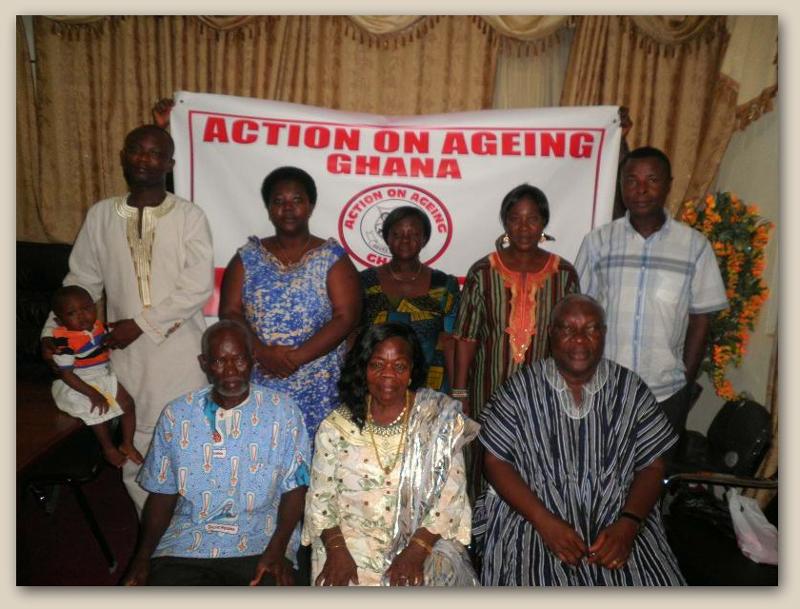 Action on Ageing, Ghana is a nongovernmental organization working with the elderly in Kumasi in the Ashanti Region of Ghana. Action on Ageing, Ghana hosted an active ageing week from 2nd to 5th December 2012 at Kwadaso Agric College conference center, with a seminar entitled «Many Journeys Many Destinations.»
The speaker was Dr. Evans Darko. After the seminar, there were some concerns of members which were addressed. The seminar was well attended with close to a hundred and fifty members with refreshments being served afterward. The next day, there were indoor games of playing cards, Ludu, and physical exercises. On the third day they performed oral examinations for periodontal diseases.
Action on Ageing, Ghana are appealing for funding to enable them to open new branches for the elderly. They are on the verge of opening a new branch at HOHOE in the Volta Region, about five hundred and forty miles away from where we are operating now. There are around three hundred and twenty members at HOHOE and they are in need of a clinic.
Closing Note
Dear Readers,
If you are interested in submitting an article for a future edition of the IFA eNews or wish to make comments or recommendations on how we might improve this publication please email Greg Shaw (gshaw@ifa-fiv.org) or Kailyn Burke (kburke@ifa-fiv.org) You can contact us by telephone +1 416 342-1655. 
The IFA is now on Facebook and Twitter! Join our Online Community!